Early this morning, the word around Chalfant Valley – dynamite discovered in a shed. The Mono County Sheriff's Department investigated.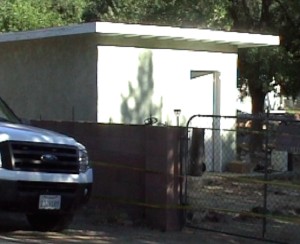 Officers said the report came in with a call from a citizen in Chalfant who said she may have found dynamite and blasting caps on her property. Reports said the woman was cleaning up a property once lived in by relatives.
The Mono Sheriff's Department and Chalfant Valley Fire Department responded to the scene. Mono County notified the California Emergency Management Agency Duty officer and asked for mutual aid. Explosive technicians from CalFire responded today to dispose of the find.
Sheriff's spokesmen said later today that the discovery turned out to be an old gun barrel soaked with diesel fuel. CalFire did blow up the blasting caps found with the gun barrel.
Officers said if anyone does find what they believe to be old dynamite, steer clear of it and call the Sheriff's Department.