Last year the Los Angeles Department of Water and Power started the boating season with six days of access to Klondike Lake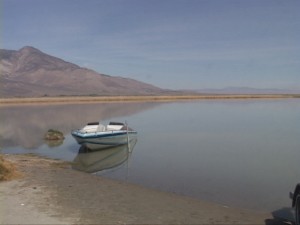 north of Big Pine. This year, the DWP upped the access to seven days per week.
A couple of years ago, DWP took steps to close access to Klondike out of fear of contamination by the invasive quagga mussels which have caused major problems for waterways in other states. LA does not want the mussels in the aqueduct system.
After a strong citizen protest, public meetings and pressure on Inyo Supervisors and DWP, LA did offer access but only provided one hour per day for the actual entry of boats. That plan continues this year. In a press release issued Tuesday, DWP said that they will open Klondike Lake to public boating seven days per week from May 27 through Labor Day, September 5.
Actual boat access to Klondike will take place for one hour between 9 and 10 am. DWP says all watercraft must still be inspected for quagga mussels before launch into Klondike. DWP will do boat inspections at the lake entrance gate only.
Klondike users must pre-purchase a daily use inspection receipt or a new season pass at the LADWP administrative office at 300 Mandich St. Klondike Lake gate inspectors will not handle any sales or cash at the gate. The charge for a single day use boat inspection remains $10 – the same as last year.