LADWP will miss their October 1st deadline to have clean-up methods in place on 3.1 square miles of the Owens Dry Lake. Air Pollution Control District Director Ted Schade said he is working with DWP on a solution.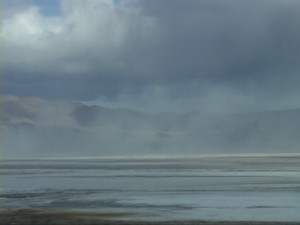 Schade said that he and LA have had "productive discussions." He hopes DWP will develop an outline of a plan with their obligations for clean-up by October 1st.
DWP had asked for a one-year extension of this same clean-up plan back in October of 2009. They wanted to use Moat and Row – rows of dirt – to keep the dust down on this 3.1 square miles. The State Lands Commission, which owns the lake bed, said, no. DWP had no Plan B developed.
Schade said that DWP did complete another part of the lake earlier than deadline, and he said they will do something else to contribute to clean air to compensate for their delayed deadline.
Schade said he just wants the air cleaned up and wants that work expedited. DWP planned to go to their Water and Power Commissioners Tuesday for environmental approval for clean-up on the 2 square mile section. The City planned to use gravel on this section which is on the northwest corner of the dry lake bed.
Before the most recent discussions and mutual work for a clean-up plan, Schade said he would have to fine DWP up to $10,000 per day if they failed to meet their deadline.