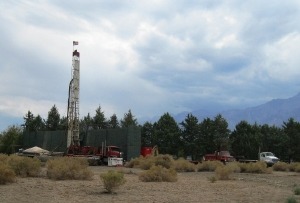 A large drilling rig continues work started last month by the Department of Water and Power east of Independence.
DWP had issued a press release to say that the drilling contractor, Roadrunner Drilling and Pump Company, would drill a total of four wells spelled out in the Long Term Water Agreement. The well in Independence, according to DWP, will supply water for what is called the Independence Re-Greening Project.
According to the Inyo Water Department website, the re-greening project amounts to flood irrigation of about 30 acres. Inyo County says DWP will select a lessee to establish the area as irrigated pastureland. The newly drilled well will also serve as supplemental water supply to the Independence town water system.
In the 1991 Environmental Impact Report on DWP's pumping, it is stated that fluctuations in water tables due to groundwater pumping have "caused approximately 655 acres of groundwater dependent vegetation to die off." During public meetings on the Water Agreement, citizens objected to use of more groundwater pumping to mitigate damage done by groundwater wells.
The other three wells will replace existing wells that DWP said are "very old and in poor condition." These wells include one for the Enhancement-Mitigation Project on the east side of Lone Pine, the aqueduct supply well on the north side of Georges Creek and an irrigation supply well northeast of Laws. DWP says these three wells will be drilled one at a time following completion of the Independence well.
On the Independence project, DWP said that "some drilling work, installation of casing pipe, gravel packing, and grout sealing will result in continuous operation for up to several days."
Officials also said that noise control devices will be used and night time lighting will be directed away from homes in the area.