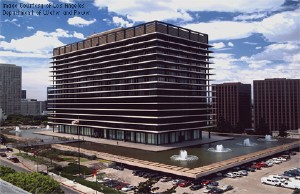 The Los Angeles City Council will vote on a Department of Water and Power union contract September 1st. LA's new Mayor Eric Garcetti has strongly opposed the contract and so have some citizens, but the City Council has so far supported it.
Local 18 of the International Brotherhood of Electrical Workers Union strongly supported Garcetti's opponent in the recent mayoral election; but according to the LA Times, Garcetti says he rejects the union contract "because it limits further DWP reforms, specifically to the Department's costly and inefficient work rules." Mayor Garcetti also objects to the fact that contract workers for DWP get paid more than regular workers.
The Times stories say that the union contract has been calculated to save $4 billion over 30 years with no pay raises for the next three years and would raise the retirement age of DWP workers from 55 to 63 for new hires.
At an LA City Council meeting Friday, DWP Manager Ron Nichols was quoted as saying that the union deal would help save on planned for water and power rate increases. Mayor Garcetti said that he and the voters want more reform at DWP. He vowed to shake things up. Citizens reportedly said they object to DWP employees making a lot more than those in other utilities or City government. Testimony also pointed at DWP employees not contributing to their healthcare premiums.
According to the Times, Local 18 spent $2 million on its fight against Garcetti. The same union has spent heavily in City Council elections. Some of the councilmen who were substantially funded by the union are now actively supporting the labor contract. LA Times columnist Steve Lopez wrote that the Union has "practically owned City Hall for years, bankrolling campaigns and grooming friends."
According to NBC reports, LADWP workers collected $77.3 million in overtime and bonus pay in the first half of this year which outpaces other city workers, including firefighters and police. NBC also reported that nearly 60% of DWP workers will receive $100,000 or more in annual salaries compared with 33% to 22% for other LA City workers.
Meanwhile, Mayor Garcetti has replaced four out of the five LA Water and Power Commissioners, which is believed to represent a shift in policies that will later come to light.