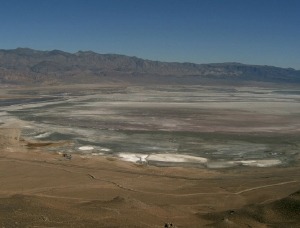 Daniel Pritchett 401 East Yaney St. Bishop, CA 93514 760-873-8943 October 28, 2012
Members of the Inyo County Board of Supervisors, Water Department, and Planning Department have participated negotiations with DWP and other parties regarding creation of an Owens Lake Master Plan for almost three years. Now, it is time for Inyo County to withdraw from the negotiations. There are two important reasons why.
First, the Los Angeles Department of Water and Power (DWP) is using the existence of the Master Plan negotiations to help justify its lawsuit against Ted Schade, personally, Great Basin Unified Air Pollution Control District (GBUAPCD), and other agencies. DWP asserts that all parties in Master Plan negotiations are cooperating with DWP except GBUAPCD. For DWP to invoke the negotiations without the consent of its negotiating partners is a flagrant act of bad faith. Withdrawing from the negotiations would rebut DWP's assertion and is an appropriate response to DWP's bad faith. It is folly for the county to negotiate with DWP while DWP uses the very existence of the negotiations to attack the county's interest in clean air.
Second, the objective of the Owens Lake planning process is to identify "broadly supported goals and objectives to enhance the lakebed." This objective has been abandoned. The draft Master Plan endorses several narrowly supported goals antithetical to Inyo County's interests. Specifically, the draft plan includes language: 1) implicitly endorsing diversion of water from Owens Lake to the Aqueduct to increase Aqueduct flows (euphemised as "water conservation"); 2) laying the groundwork for a new wellfield for new groundwater pumping and new pumping impacts; and 3) endorsing temporary suspension of air quality standards at Owens Lake. Inyo County is being taken to the cleaners!
Inyo's problems will not be solved by attempting to out-negotiate DWP and create ever more- complicated and unenforceable agreements – the last forty years provide abundant evidence supporting this assertion. The county's hopes lie in trying to rigorously enforce existing agreements and supporting growing efforts to wean LA off its addiction to imported water (see http://greenlacoalition.org/initiatives/sustainability/). By increasing flows down the aqueduct, the Owens Lake Master plan will do the opposite. It will further feed LA's addiction to imported water and will lead to new groundwater pumping impacts to boot.
Resignation from the Owens Lake Planning Committee is a simple, cost-effective way for the county to fight DWP's vendetta against Ted Schade and GBUAPCD, while disassociating itself from a failing negotiation. It would also set an example for other parties to the negotiations. When DWP's actions are beyond the pale, negotiating parties should not acquiesce and conduct business as usual.
Daniel Pritchett Bishop, CA