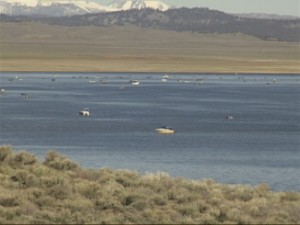 As fears of drought grow, so do rumors. One that came to our newsroom was that the Department of Water and Power planned to drain Crowley Lake. Chris Plakos of DWP Public Relations said that's not true.
Plakos said, "Rumors that LADWP is planning on draining Crowley Lake are unfounded and incorrect. LADWP understands the value and significance of Crowley for recreational, habitat and water-storage purposes, and has managed Crowley to meet those needs since it was first put in service in 1941."
Plakos also said that LADWP's 2014 operational plans for Crowley Lake call for the elevation to rise to just under two-thirds full "based upon anticipated very low runoff this year resulting from the continuing drought. The elevation will level out," he said, "and then lower later in the year. The lowest planned elevation will be slightly below half full and similar to its lowest level during the 2013 season," Plakos said.