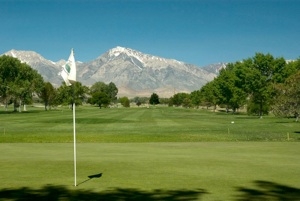 More than a month ago, Los Angeles Department of Water and Power Manager James Yannotta confirmed that DWP was talking to both the Bishop and Lone Pine Golf Courses about the possibility that LA might start to charge them for water – a possibility that could put both courses out of business. This month, Yannotta said talks are still moving forward.
The DWP Manager had emphasized the importance of the golf courses to the Owens Valley. However, he said that the LA City Charter says DWP can't "give away water." He added that "We need to make a lease that is legal but that also makes the golf courses work for the community." Yannotta underscored that DWP wants Bishop Golf Course to "be more water-wise."
Golf Course and Inyo government officials have expressed deep concerns about DWP potentially jeopardizing the golf courses. More recently, when asked for an update on the situation, Mr. Yannotta said, "We are still going to move forward with preparing new leases with the golf courses. At this time," he said, "the type of leases hasn't been determined and I don't know if they will have to pay for water." Yannotta repeated his earlier wish that it is "important for the courses to look at how they can use water wisely."
Yannotta said that DWP is working with the golf courses to conserve water and to focus on programs to "convert to more drought tolerant landscaping and improving their irrigation systems."
As locals hit the greens on these hot summer days, they hope DWP will show some mercy and keep these local recreation areas going.