After the Standing Committee meeting Thursday, David Nahai, the General Manager of the LA Department of Water and Power, gave a speech at the Methodist Church in Bishop.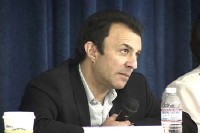 The talk was entitled, Looking to the Future: A Climate Strategy for Los Angeles Department of Water and Power. With many in the audience interested in how climate change would affect the Departments operations in the Eastern Sierra, Nahais speech primarily focused on renewable power.
Nahai prefaced his talk by saying that climate change is real and the debate over the cause is over. We cannot afford to fail, he said.
Over the course of an hour, Nahai jumped into the details of DWPs commitment to use renewable power resources to generate 35% of the electricity needed to power the city of 4 million people. Right now, 46% of the electricity used in Los Angeles comes from coal plants. Natural gas generates 30% of the power. Nuclear power generates a portion as well.
Nahai explained that in recent years the department has brought wind generation into their system, which in combination with hydro electric power (some of which comes from as far as the Columbia River,) adds up to only 8% of the power needs of the city. To reach the 35% threshold, Nahai explained that solar generation in the high desert would be brought online, as would more wind power, but the major move will be to tap into geothermal resources near the Salton Sea.
Another plan that Nahai mentioned was a city ballot initiative that would buy 400 megawatts worth of photovoltaic solar panels for rooftops with in the City of Los Angeles.
During the question and answer period that followed, members of the audience commended Nahai and the City of Los Angeles for the lofty goals set for renewable power, but being a local crowd, there were water questions.
Daniel Pritchett with the California Native Plant Society asked whether the Department would allow groundwater in the Owens Valley, drawn down over the past 20 years, to recover. Nahai did not directly go into specifics, but did say that DWP respects our environmental obligations.
After a question on future water supply, Nahai explained that in the next 20 years, the population of Los Angeles is expected to grow by 370,000 people, requiring an additional 100,000 acre feet of water a year. Where would this water come from? Nahai explained that the plan is meet this need entirely from conservation efforts like recycled water and rain fall capture. Nahai had also answered an earlier question by describing aggressive enforcement of conservation rules as well.