Ill winds now blow through the DWP in Los Angeles as a deal to buy land for a giant wind farm hit the rocks. According to an article in the Los Angeles Times, a friend of Mayor Antonio Villaraigosa outmaneuvered DWP on the purchase of the 68,000 acre Onyx Ranch east of Bakersfield.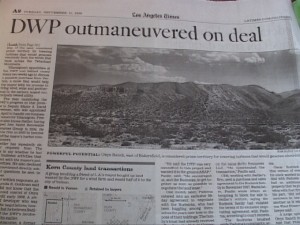 It's unclear how LADWP's attempt to generate green power might impact the Eastern Sierra other than electricity rates in the Owens Valley.
Mayor Villaraigosa vowed that 20% of DWP's power would come from renewable sources by 2010. Time is running out and apparently so are DWP's options.
David Freeman, who once headed DWP now works as a Deputy Mayor in charge of the environment. Freeman had earlier said he wants to see solar panels on the Owens Dry Lake – to keep dust down and to generate electricity.
Without the big Onyx Ranch for a wind farm, DWP might turn to an eminent domain proceeding in court or look for more wind swept, open land.