Los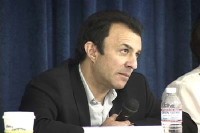 Angeles faces one of the most serious water shortages in years, according to officials, and DWP General Manager David Nahai makes it clear that water cutbacks in the city are serious. LA will lose supplies from the State Water Project and from the Sierra where the snowpack remains below normal. So, what does this mean to the Eastern Sierra?
In a phone conversation with Mr. Nahai, he said that DWP will meet it's "environmental obligations to Inyo and Mono." He did say that DWP may not want to use pristine water to mitigate dust at the Owens Dry Lake. He said conversations with the Air Pollution Control District are ongoing.
Last summer, some ranchers expressed concern that DWP did not give them a full water allotment. Nahai said he plans to visit the Owens Valley and speak to ranchers and other stakeholders in water.
Meanwhile, DWP Commissioners have approved higher water rates for those who use more water. Nahai called it water rationing. Outdoor irrigation would be confined to Mondays and Thursdays. A major recycled water project is underway, according to Nahai.
Will officials actually try to control growth in Los Angeles? Nahai said that department heads in the city are holding discussions to talk about challenges like growth and water supply.