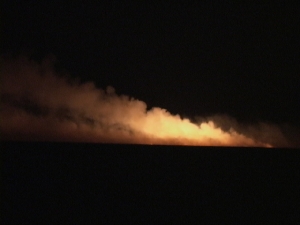 A huge plume of smoke, lighted up by fire was visible from Highway 395 last night.
According to the Inyo Sheriff's Office, the Department of Water and Power had
conducted a controlled burn about 10 miles north of Independence yesterday.
The dispatcher said DWP reported the fire was out but then re-ignited. CalFire
was called out to work the blazes which stretched along the east side of the
Owens Valley. The large amount of smoke was blowing to the north last night.
The smell of smoke was obvious as far north as Big Pine.