The president of the LADWP Commission, David Nahai, resigned Friday but news reports say that the underlying plan will put Nahai in charge of DWP as General Manager.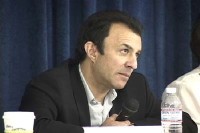 The Los Angeles Times reported that Nahai's resignation was interpreted at City Hall as his first step toward securing the top executive job of DWP, which is the nation's largest municipal utility.
According to the Los Angeles Times, Mayor Villaraigosa accepted Nahai's resignation from the DWP Board. The Times also reported that sources close to Villaraigosa described Nahai as the mayor's top pick to replace DWP General Manager Ron Deaton who remains on medical leave.
Nahai has not officially confirmed that this is the plan, but City Hall sources have privately. Current Manager Deanton, who earns a reported $345,000 a year, went on leave, according to the Times, after suffering a heart arrhythmia during a trip abroad. One official said that Deaton had planned to retire in November even before he fell ill.
Nahai has served on the DWP Commission since 2005. He showed a particular interest in improving contentious relations between LADWP and the Eastern Sierra.