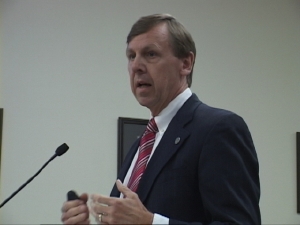 At the Inyo Supervisors' meeting Tuesday, during a break in the intense talk over the Department of Water and Power's Solar Ranch plans south of Independence, Assistant Director of Power System Planning, Michael Webster made it clear that considering management, the Commission and the Mayor, there is clearly a chance that the project will not go. "They will weigh the pros and cons.," he said. "Staff can't predict where it will go."
Rumors had persisted that maybe LA officials were re-thinking the controversial Solar Ranch of 1200 acres and a million solar panels across from Manzanar. Supervisor Matt Kingsley asked Webster directly how committed DWP is to the project and if they are thinking of changes. Webster said, "I don't feel comfortable commenting." Then he said, "Strategic issues have to be addressed with the manager, our Commission and the Mayor. It will be an interesting six months," he said.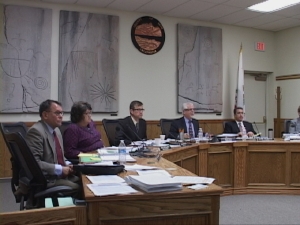 Supervisor Jeff Griffiths said members of the public call the project a terrible idea that will ruin the Valley. He said, "I heard that some thought if it's too unpopular, DWP would look for another way or place. What would public reaction have to look like for you to change this?" Webster tried to side-step the question again when he said, "Our Board will look at it. It's ultimately a Board decision."
When questioned by Sierra Wave Media and the LA Times during a break, Webster said there was clearly a chance the project would not go. Then he said that it has all the strategic advantages of the transmission line, economic development and job training. He said no other site meets all of those needs. Will DWP take the Owens Valley people and their objections seriously? Webster said, "Policy makers are struggling with the process." The hint of DWP doubt about the project attracted attention in the public and on the Board.
Webster did talk through what he called DWP's transformation on the power side. The bottom line – primarily the State mandate to generate 33% of its electricity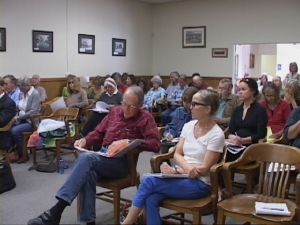 with renewable energy sources by 2020 and the need to eliminate coal generated power plants, Webster went on to describe several solar and wind projects that have or will soon break ground in other parts of the West and contribute to LA's power supply. He said use of the available transmission line capacity of 250 megawatts in the Owens Valley is important to DWP. He said LA generates 20% of its power with renewable energy now with the need for 13% more by 2020.
Webster did say that 40 to 50% of solar energy will happen locally in LA but is limited due to cloud cover and the need for geographical diversity. He said if solar projects are 200 miles apart, they are impacted differently by conditions. He said DWP will do a solar demonstration project of 500 kilowatts on the Owens Dry Lake this summer. Webster indicated that it would take too long to develop large-scale solar on the dry lake bed.
Webster ran through what he considers the pluses of the Solar Ranch for the Owens Valley – it would be paced over several years; it's a passive facility; the County will get $4.6 million to cover service costs, an economic development loan of $2 million, and some job training.
Supervisor Kingsley asked about more rooftop solar in LA. Webster said that doesn't count in the 33% mandate although DWP and other utilities are working to change that. Webster said there are concerns about the whole system and too much local solar. Supervisor Kingsley leaned on Webster to get engaged with the public more. He said, "I'm spending daily time on your project." Supervisor Griffiths said there's no real benefit to the local communities. He suggested that the $4.6 million payment DWP has proposed was too low, considering the impacts. Webster said the figure was arrived at through negotiations with Inyo. Anything beyond that, he said, would be a gift of public funds.
Fifteen members of the public spoke against DWP's solar project. Perhaps most revealing was what Nancy Masters had to say on behalf of the Owens Valley Committee. She said several years ago, the idea of a conservation easement on DWP lands in Inyo was proposed. That would inhibit all development. She said, "We are proposing to protect the Owens Valley and sustain access instead of locking up 1200 acres in a solar project. We will re-visit this idea."
Board members thanked Webster for his visit and discussion. Board Chairman Rick Pucci told the DWP man that he had never received so many comments on a project. "Most of them negative," said Pucci. He said he hoped the public comments were registering in relation to more than just the specific Solar Ranch project. He said there are fears that if the people are not heard, more solar with the same problems will develop in the future. We will have more on comments made by citizens in later stories.