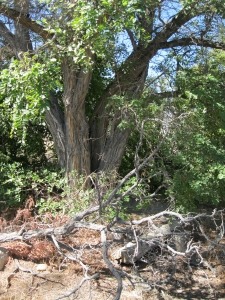 Landfill fees waived for "green waste" on Saturday, Oct. 13  (Inyo County Press Release)
All fees will be waived for local residents disposing of "green waste" at all Inyo County landfills and transfer stations on Saturday, October 13. Commercial businesses delivering "green waste" are not included in this event, and will be charged regular gate and disposal fees.
Providing free disposal of green waste at all county landfills is one way to help homeowners get a start on fall clean-up projects. Local Fire Safe Councils and Fire Departments also hope the fee waiver will encourage residents to create "defensible space" around their homes and other buildings to help reduce potential fire hazards by trimming trees, shrubs and brush.
"Green waste" consists of yard waste, lawn clippings, leaves, pruned tree limbs, brush, small trees, tree trimmings, slash and tree stumps. There will be no gate fee or disposal fee for residents disposing of their "green waste" at County landfills in Bishop, Independence and Lone Pine, and at the Big Pine Transfer Station.
The Inyo County Board of Supervisors approved the one-day fee waiver, which was proposed by Fourth District Supervisor Marty Fortney, at its Oct. 2 meeting. Also approved at the meeting was a proclamation declaring Oct. 7 through 13 as Fire Prevention Week in Inyo County.
The county will be working in conjunction with the Big Pine Fire Safe Council and Preferred Septic and Disposal to promote Fire Prevention Week by providing large, roll-off bins in and around Big Pine on Oct. 13, and allowing residents to drop off their "green waste" in the bins, free of any charge or fees.
By Saturday morning, the bins will be in place in the following locations:
North of town at the Big Pine Animal Shelter area, (County Road near Reynolds Road);
In town at Mendenhall Park (School Street and Baker Creek Road);
South of Town at the Big Pine Paiute Tribe's Old Casino Building (Butcher Lane and Newman Street).
Clearing brush and shrubs, dead or dry tree limbs, and overhanging branches from around homes and buildings is a critical component of creating a "defensible space" around buildings which could help those buildings survive a wildfire or fast-moving structure fires. Fire Safe Councils have been working with Cal Fire crews and the Los Angeles Department of Water and Power in Big Pine, Independence and Lone Pine to educate homeowners about "fire-safe" strategies for their properties and their communities.
For more information about the fee waivers for green waste at county landfills, call the Integrated Waste Management Program at 760-873-5577 or 760-878-0200. For more information about local Fire Safe Councils or how to create "defensible space" around a home or building, call Cal Fire at 760-387-2565.