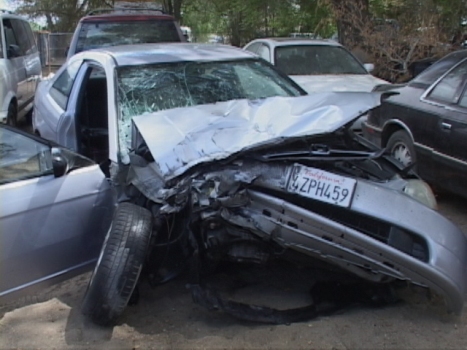 Just before 4:00 am Thursday, CHP responded to a passenger vehicle vs. big rig accident on Sherwin Grade that sent one Bishop resident to the Hospital and another to the county jail.
Officers report that a big rig was traveling down Sherwin Grade at about 35 miles per hour, when it was hit from behind by a 2002 Honda Civic traveling at about 70 miles per hour. After the impact, the Civic headed out of control across the lanes and landed upright in the center median of the highway. The rig was damaged and pulled over to the side of the road. The driver of the rig was not injured.
Officers say that the driver of the Civic, 24-year-old Bishop resident, Oscar Ziramontes, fell asleep at the wheel. He was not injured. His passenger, who was sleeping on the backseat, was not so fortunate. The female Bishop resident was transported to Northern Inyo Hospital for what are described as minor to moderate injuries.
The driver, Ziramontes, was arrested for alleged felony driving under the influence.
CHP, Inyo Sheriff Officers, Bishop Volunteers and Symons Ambulance crews all responded to this accident, along with both Bills and Bobs towing.