Bishop Police Dept. News Release (Facebook):
Last night, Oct. 18, at about 11 pm, a local 20-year-old man lost control of the vehicle he was driving, crashing it into a parked car and residence on the 300 block of Clarke Street.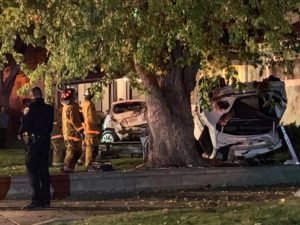 The driver had to be extricated. He and his adult passenger were transported to the hospital and admitted for various non-life-threatening injuries.
Alcohol and marijuana were found inside the suspect vehicle. No one inside the residence was injured.
The DUI/collision investigation is ongoing. Should you have any information about this event, please contact the Bishop Police Department at (760) 873-5866.