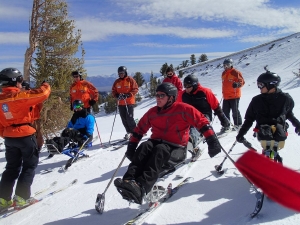 Biathlon Camp & Mammoth Lakes Biathlon –
March 20-24.  
Don't miss out!  
Sign up today!
This Paralympic camp includes 5 days of on snow activities including competition in the 5th Annual Mammoth Lakes Biathlon. Guest Coaches include 9 time Paralympian Candace Cable and USOC coach and former biathlete BethAnn Chamberlain. Athletes will be coached in Nordic Skiing techniques, target shooting and biathlon tactics. Check out 
coverage from last year's event!
Spring Expo – Saturday, 
April 6.  
Spring Expo is DSES' annual outdoor bash where we thank YOU for YOUR fundraising efforts, as well as show the world what we do everyday! Join us for on-hill activities in the morning, a catered lunch, then the apres party and award ceremony!  Sign up today!
Springtacular – Tues-Fri, April 16-19
 .
Springtacular is for anyone with cognitive disabilities. The event includes 4 days of skiing and snowboard instruction, lift tickets, rentals, lunches, banquet and ceremony, t-shirt and lots of fun! Sign up today!
We offer ongoing Alpine Ski, Nordic Ski, Snowboard and Biathlon training daily. CALL & BOOK LESSONS!
Nordic Ski & Race Camp – January 18-20.
This year we had 8 participants, including 4 wounded warriors.  The athletes ranged in age from 10 to 70, with a mix of stand up, sit down and visually impaired athletes.  Event photos!
Wounded Warrior, Operation Mountain Freedom – January 28- February 1.
DSES welcomed 40 of our brave Wounded Warriors and their guests for a therapeutic week of skiing and outdoor adventures! Of the 40 participants, we had two Korean War Veterans, one of whom was 84 years old! We also had 7 repeat Wounded Warrior participants. This program offers all of these individuals an opportunity to meet new people, learn new skills and focus on what they CAN achieve as their outlook on the future brightens each day!  Event photos!
Alpine Ski & Race Camp – February 6-10.
With 18 participants, this was DSES' largest Alpine Ski and Race Camp to date. The camp was a mix of Wounded Warriors and civilians, which included 10 Wounded Warriors, 11 sit-skiers, one visually impaired participant and two children. Event photos!
Mono Ski Madness Camp – March 1-3.
This camp gave our sit-ski athletes the opportunity to improve their skiing and racing skills through a mix of on hill activities. There were 12 athletes total – 5 wounded warriors, 7 civilian. We were very impressed by the strong skill level for the camp, and many of these were returning DSES athletes.  Event photos!