Hefty gusts of wind in Southern Inyo Sunday proved DWP still has some work to do to clean up the Owens Dry Lake dust hazard.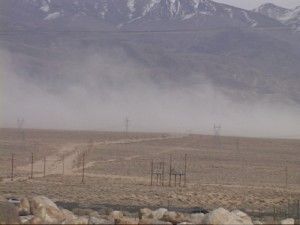 Gusts of up to 50 miles per hour sent dust marching northward off of several spots on the lake bed. Some reported dust in the air as far north as Bishop. Independence and Lone Pine saw serious air pollution.
Dennis Mattinson at the EPA recording station at Fort Independence said that a normal reading of particulate matter in the air registers around 150. Sunday, readings at Fort Independence topped 529. Lone Pine recorded 1342, he said, and Bishop went over the norm to 235.
Ted Schade, director of the Air Pollution Control District, said at its highest reading, one site at the south end of the lake bed showed a reading of more than 5000 with the standard at 150. Several other spots broke the standard with isolted gusts and with 24 hour readings.
Schade said that precipitation and then cold drying created a lot of salts on the lake surface. The high winds whipped them right up. Schade said that DWP is at work on the areas that blew up the dust. He said they are at work on 12 square miles. 9 square miles of that will go under shallow flooding and more than 3 miles the so-called moat and row ditches of dirt.