The Department of Water and Power seems to have hit a snag on legally required clean-up plans on the still dusty Owens Dry Lake. A kind of show-down will unfold at an Air Pollution Control board meeting Monday.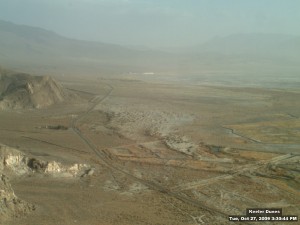 Orders were issued and plans made for DWP to clean up 9.2 square miles with shallow flooding by April 1st. DWP has performed that project on schedule.
Less than on time is the next clean-up order on 3.5 square miles of the dry lake bed. DWP has not begun that project and has no approvals for a plan, according to APCD Director Ted Schade. DWP wanted to use what is called moat and row for this project – basically tall rows of dirt that are supposed to keep dust down.
The State Lands Commission, which owns the dry lake bed, has said no to moat and row. DWP officials have drawn the line at 95,000 acre feet of water per year for dry lake mitigation. So, the options have narrowed. APCD had approved shallow flooding, gravel, vegetation or moat and row.
If DWP fails to meet the October 1st deadline for the 3.5 square mile clean up, APCD can fine DWP up to $10,000 per day, depending on the circumstances.
This issue will go public Monday when the APCD board meets in Mammoth at 10:30am in Suite Z, the Council chambers. DWP Chief David Freeman is expected and so is the executive officer of the State Lands Commission, Paul Thayer.