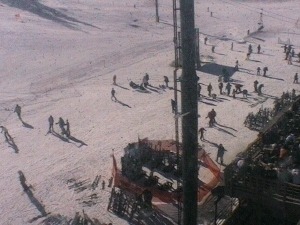 For Mammoth Mountain Ski Area, this December does not mark the driest one on record but close. Mammoth Mountain received 2 inches of snow for December.
Joani Lynch, Communications Director of Mammoth Mountain, pointed to history.  She said that the 1976-77 season saw zero inches in December and not much for the season – just 94 inches.  That was a serious drought year.
1986-87 was not much better.  Zero inches of snow in December and a season total of 196 inches.  1989-90 fared a little better.  December of that season saw 2 inches of snow and a 214 inch total for the season.  1999-2000 weighed in with 3 inches of snow for December and a hefty 382 inch season total.
As Lynch said, it's a little early to confirm how much of an impact the dry December will have even on the holiday season.  Lynch said that the week before Christmas showed strong days with 8,000 to 9,000 skiers per day.  The New Year's week started off slow but the Ski Area expects numbers to ramp up.  If traffic on Highway 395 is any indication, that's a good bet.
Sierra-wide, the dry December is a common phenomenon.  News reports say that Reno, Nevada, has experienced a record dry December.  Tahoe's snowpack sits at around 10% of average.  Ski Resorts in the Sierra region have relied on snow-making, not the weather gods, to accommodate holiday visitors.
Last year's heavy snowfall has, at least, filled many reservoirs and kept them full.  The dry December, climate watchers say, will impact the water year.