On Friday, narcotics agents from Inyo and Mono pointed guns at suspects in a very public operation in Mammoth Lakes that netted the arrest of 6 people, accused of trading ski passes for a variety of drugs.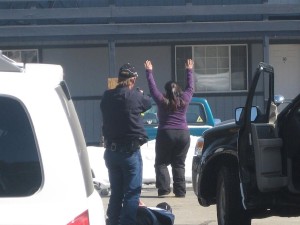 Photos provided to Sierra Wave revealed local law enforcement placing suspects under arrest in at least one very open location. These arrests were the culmination of an unusual sting operation.
Over the past week, agents with the Mono Narcotic Enforcement Team (MONET) have operated an internet based sting operation. Officers report that agents posed as the sellers of vouchers for Mammoth Mountain. Rather than cash, officers say they clearly stated that the lift tickets were to be exchanged for narcotics.
MONET agents say they received numerous offers from prospective buyers. The deals were arranged for Friday in Mammoth. When the buyers arrived in Mammoth and gave the agents narcotics in exchange for ski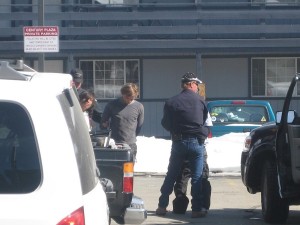 vouchers, they were arrested.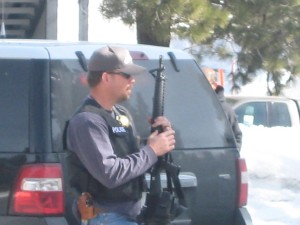 With visible arrests in broad daylight Friday, the Town of Mammoth was abuzz with talk of the arrests. Friday afternoon, Police could be seen holding the suspects at gunpoint in a parking lot off Old Mammoth road. The suspects appeared to be dressed for a day on the slopes, but instead found themselves in front of officers pointing pistols and assault rifles at them.
There were a total of 6 suspects arrested and charged. Officers say that they seized about 1 pound of marijuana, ounce of cocaine, Ecstasy tablets, and a variety of prescription medications.
Officers arrested 22 year old Travis Jennings of San Luis Obispo, 28 year old Joshua Martin of Newport Beach, 30 year old Christopher Nichols of Newport Beach, 27 year old Molly Malloy of Huntington Beach, and 21 year old Jonathan Morrison of Highland Park.
All suspects were booked into the Mono County Jail on charges ranging from sales of controlled substance, possession of cocaine, sales and possession of more than 1 oz. of marijuana and conspiracy.