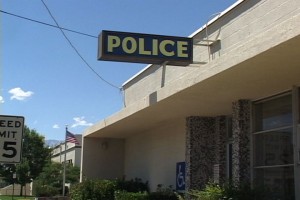 When Bishop Police Chief Chris Carter spoke to the Bishop City Council this week, he briefly described an arrest that involved very effective team work by his staff and ended in the arrest of two people.
Sierra Wave Media talked to the Chief for more detail. He explained that last Sunday night, Officer Brent Gillespie saw a vehicle come through the City at great than the speed limit. The vehicle also had illegal, tinted windows.
The officer made a stop. The on-duty dispatcher checked out the details and informed Officer Gillespie that the two occupants of the vehicle had been stopped in an out of state vehicle at another time by another officer.
The Chief said Gillespie grew suspicious and investigated further. Chief Carter said there were "other indicators" that tuned Gillespie into the fact that the two people were possibly transporting drugs. Gillespie asked them to go to the police department and there he and his K-9, X-ray, searched the vehicle.
The Chief said Gillespie found two hidden compartments constructed in the vehicle under the driver and passenger's seats. In one of the compartments the officer found a large amount of packaged U.S. currency. Chief Carter said it was more than $10,000. He said the K-9 made an active alert on the money indicating that it was drug proceeds with the scent of illegal drugs which the K-9 is trained to detect.
The suspects, Chief Carter said, could not explain the illegal compartments and the cash. The Chief said the money was seized and the two arrested. Investigation into this case continues and no more details are now available.
Chief Carter called it good teamwork by the dispatcher, officer and K-9. He added that if people doubt that there are regular amounts of drugs and cash on 395, this incident adds to the confirmation.