A collision on Ed Power's Road near Bishop remained under investigation by the California Highway Patrol.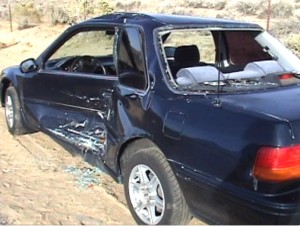 The CHP reported that 19-year-old Angelica Perez of Lee Vining was driving her 1993 Honda southbound on Ed Powers Road. Behind her, 34-year-old Richard Todd Ziegler of Bishop drove his 1998 Subaru.
The CHP said that Perez pulled to the right shoulder and Ziegler moved over to the left to continue southbound. Officers said that Perez suddenly conducted a hard left turning movement directly into the path of Ziegler in an attempt to make a U-Turn.
Ziegler hit Perez broadside in the driver's door. Perez was transported to Northern Inyo Hospital for a complaint of pain to her left side.