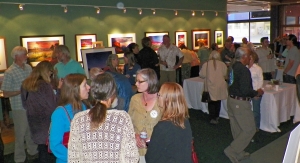 Just How Successful was OVC Fundraiser? Very!
By Charles James
Saturday's Owens Valley Committee fundraiser held at the Mountain Light Gallery with guest speaker, Bill Powers, on "Solar done right" attracted close to 200 supporters. Not only was the fundraiser successful in drawing supporters, but it also raised a considerable sum of money through donations, which was important as Metabolic Studio  has pledged to "match" whatever funds were raised.
According to OVC President Mary Roper the non-profit organization raised $6,726 which included in-kind donations of items used in the silent auction and food donated by local residents for the reception held prior to Powers' talk. But there was more to come.
An anonymous note inside a donation envelope promised a check would be delivered to OVC within the next two to three weeks in the amount of $7500 from the National Philanthropic Trust. Also included in the note was the message that the NPT "hopes that if will be matched by Metabolic Studio along with the other donations raised." If you add in the $7500, the total for Saturday night's fundraising event reached $14,226. If matched by Metabolic Studio, the total sum of donations could reach over $28,000.
Roper voiced a note of both optimism and plain old caution. "We're excited about the prospect of the large donation but I'm a strong believer in 'Never count your chickens until they hatch.'" If it does come through, there will be something, speaking of chickens, for the OVC "to crow about."
So opposition to industrial solar is spelling "success" for the Owens Valley Committee as it battles the Los Angeles Department of Water and Power's proposed Southern Owens Valley Solar Ranch near the Manzanar National Historic Site. And while opposition to SOVSR is high on the groups priority list, the OVC is also the leading locally-based civic watchdog for water issues in the county as well.