A major project more than 2 years in the works, the Lower Owens River Project, now sits at the center of a report on water flow, water quality, trees and weeds. DWP and Inyo County have released the report for public comment.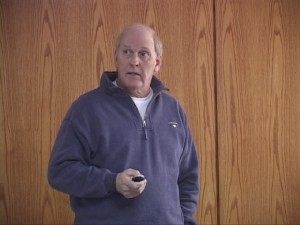 Ecosystem Sciences consultant Mark Hill talked to the audience of a public meeting this week. He explained that crews are evaluating what goes on with the river and the best ways to manage it.
Hill talked to the audience about grazing around the river and fencing of rare plants. Tules have come in to clog parts of the river. That's one of the concerns. DWP and the County will use what's called Adaptive Management – that means basically management practices based on observations and needs.
Mark Bagley with the local Sierra Club asked for more analyses of tules and more elaboration on decisions. Ranchers Mark Lacey and Scott Kemp expressed concerns about management of their grazing leases in relation to the river.
Consultant Hill recommended more studies to flesh out ideas for management. Now, written comments can come in for the next 15 days. On February 13th at 10am at DWP headquarters in Bishop the Inyo-LA Technical Group will meet on this Draft Report.