The water flows down the Lower Owens River, but how to manage it from here.? Wednesday, Inyo and DWP planned to reveal some facts about the river in their Lower Owens River Project 2008 Annual Monitoring Draft Report.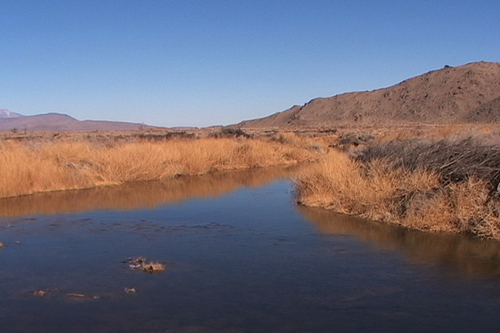 The report includes data collected during the LORP 2008 habitat and flow compliance monitoring, results of analysis and recommendations for any changes in management. Inyo and LADWP planned to hold a public meeting on the Draft Report Wednesday, January 21st, starting at 10am in the LADWP Multipurpose Room in Bishop.
The public can make comments on the Draft Report at the meeting and in writing within a 15 calendar day period following the meeting.
After review of public comments, the Inyo-LA Technical Group will meet in February to consider the Draft Report. Finally, the Technical Group, Standing Committee and governing boards of LADWP and Inyo will make the final decision on implementing LORP adaptive management actions, as they are called changes in management based on data.
Check out this river report at the Inyo Water Department, LADWP headquarters in Bishop and LA or on the LADWP website. www.ladwp.com.