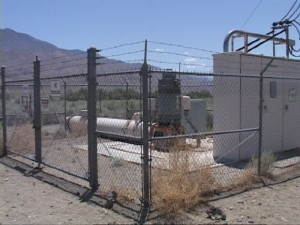 Another kind of surprise from the Los Angeles Department of Water and Power.  The mega utility has come up with what seems to be a first – a pumping rate that is a wide range of acre feet.
LADWP Delivered a draft operations plan for 2012-2013 to the Inyo County Water Department on Friday, as required by the Long Term Water Agreement.  As they do every year, this year DWP says their plan is consistent with the "management strategy" of the water agreement.  The goal, they write, is environmental protection and a reliable water source for LA.
First, LA reveals the Eastern Sierra Runoff Forecast.  For April through September, they say runoff is forecast to be 170,300 acre feet or 56% of the long-term average runoff. They say it another way as 65% of the long-term average runoff value or 268,400 acre feet.
Every year, LA reports how much water they say they can pump from the Owens Valley under the terms of the water agreement but don't.  This year it's 135,840 acre feet.   It's never clear why LA refers to and keeps track of pumping they consider "available" to them under the water agreement – a pumping amount they never take, and Inyo County does not agree with LA on this.
The operations plan says LADWP plans to pump "between 61,900 and 88,000 acre feet of groundwater during the runoff year."  But, then the document says that LA will monitor the Owens Valley and see if "further changes to the planned range of pumping are needed."  LA also describes their plans as "conservative pumping."  The document also says that LADWP  plans to "pump no more than between 46% and 65% of groundwater made available under the Water Agreement" although the Standing Committee, they say, may decide to make further reductions.
LA also says they are complying with the Green Book of the water agreement which tells when to turn pumps off to protect the environment.  However, both Inyo and LADWP have publicly stated that they do not believe the Green Book works.
Inyo County has until April 30th to respond to the LADWP draft plan.
Meanwhile, LA has initiated a Dispute Resolution process on pumping from Enhancement/ Mitigation wells.  They claim the pumped water doesn't add up to the amount the projects are using and that they have to use surface water or other wells on the projects.  LA apparently doesn't like the fact that some wells near mitigation projects are in off status, since they are in danger of harming the environment.  Inyo Water Director Bob Harrington said Inyo needs more information.  LA has been keeping track of what it considers a pumping deficit in relation to mitigation projects of 180,000 acre feet over the years. One more disagreement in a long line of many.