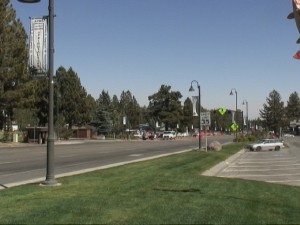 Main Street in Mammoth Lakes. To more than a few it's not too attractive and remains pedestrian unfriendly. Over the years, officials and citizens have come up with plans to improve the street, but nothing much has ever happened. The Town of Mammoth now has the start of another plan. A Draft Implementation Plan will come out in September.
The Main Street project was placed on last week's Planning and Economic Development Commission agenda but continued since some commissioners had to leave the meeting. Associate Planner Jessica Morriss explained where the project stands now. She said a couple of weeks ago, the Town held a series of workshops, three days of public meetings and meetings with business owners and other stakeholders.
Consultants from Boulder, Colorado are also at work on the plan. Morriss said they will crunch numbers and look at concepts to come up with the draft plan. The focus area for this project is between the Gateway Monument at the entrance to Town and up Main Street to Manzanita.
Concepts include removal of frontage roads and transformation of the space into a more walkable area with bike lanes, sidewalks and on-street parking. Another idea is to transfer some of that property to business owners for re-development.
Morriss said that property and business owners are concerned now about the giant snow berms that form on Main Street so that visitors can not see their businesses. Morriss added that there has also been a lot of positive response to the idea of a better Main Street. However, she said there are concerns about finances and how to pay for improvements. Morriss said the Town has a financial analyst looking into this. She said there are many options like a maintenance or improvement district or other assessment districts. She said, "We can pool our resources and do this plan over time."
Short-term, Morriss said snow management on Main Street is a priority. Re-configuration of the street will take time. She said not every property owner wants to participate. The Town, said Morriss, is constantly applying for grants and has often been successful. She said, "We want the plan ready if we can get the money." She called it a "shared endeavor" involving the property and business owners, the Town and others.
Morriss said, "Main Street is important. The success of Main Street will impact the whole Town." She said the Town's consultants have experience with transforming resort towns. Morriss said that the frontage roads are Town-owned property. She said, "We have control over that. It's a big opportunity." Planners will continue to work with people along the Main Street corridor. Morriss said the whole process has been funded by a Caltrans grant. She said Caltrans officials have been very supportive.