By Deb Murphy
Dr. Carl Lind, DVM was gruff and opinionated, vet who took the death of his patients as hard as their owners, a mentor to the young people who worked at Bishop Veterinarian Hospital. He wasn't PC, he was a friend, a perpetual volunteer, a party animal. He loved kids, animals and his community.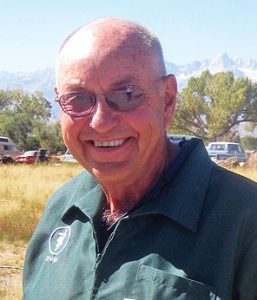 Lind died at his home on February 12 after a battle with ALS.
Lind's family moved to Bishop when he was 13. He worked for Dr. Joe Hird at Bishop Vet during his high school years. "Hird was my mentor, my hero," he said during an interview shortly after his retirement, 40 years after he joined the practice in 1970. Hird was the reason Lind studied veterinarian medicine at University of California, Davis just as Lind was the reason scores of his mentorees went into medicine.
One or his projects was Dr. Craig London who followed in his footsteps. "He had enormous personal energy," London said. "While he was living at Desiderata, he'd get at 5 a.m. in the winter and de-ice the creeks. He worked passionately and then in his free-time do his charitable work."
According to London, Lind was adamant about keeping Bishop Vet at the forefront of medical advancements. "He'd go to vet conventions and come back with the latest stuff. Some of it had to go back," he admitted.
Lind loved to work with the packers, take his family on trips to the back country. He loved spending time with friends Stacey Bardfield and Gary McCoy on their houseboats on Lake Tahoe. "We invited him one weekend," remembers Bardfield. "The next year he asked if he could bring his family, his extended family…. He was a dear, dear friend; one of the greatest guys in the world."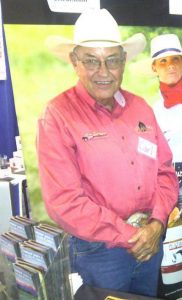 Lind's death hit Bardfield hard a couple of days ago. She'd been referred to a clinic in San Diego for her dog with a possible cancer diagnosis. When she got the news it wasn't cancer, her first instinct was to call Lind and tell him the good news. "That's the first time in 40 years I couldn't report back to Carl," she said.
Bishop Vet's policy had been to let people make payments. Bardfield went one better, forming the non-profit For 4 Paws, to help cover the costs of care for family pets.
He was Mule days' first Show Chairman, involved in 4-H and Boy Scouts, the proxy buyer for the Junior Livestock Show with the mission to get as much money for the participants as humanly possible. He served on Bishop school boards for nearly 30 years. During his last term his focus was to make sure students with fewer advantages could get a good education. "The kids in West Bishop will be okay," he'd say. It was the other kids he worried about.
He had a permanent spot in the stands at Bishop High's football field during his grandsons' high school years. He provided support to area packers, pressed for research to help the local cattle industry. 
A lot of locals have their own special memories of Lind. Pam Render worked with him at the Lone Pine clinic. "At first I thought he was gruff," she said. Soon she saw his dedication to the animals. "He saved Dawson's (her horse) life."
My own best memory: Referring to my flea-bitten Arab gelding, who looked like he'd been assembled from spare horse parts but had a great sense of humor, when Abe was in for X-rays after coming up three-legged, Lind said, "he's a nice little horse." Nobody ever said that about Abe, but Carl.
He is survived by his wife, Carol; sons, Mark and Steve; stepchildren Cindy, David and Rich; nine grandchildren; sister, brother and several cousins. He requested there be no services. Please send donations to Bishop High School Scholarship in his name or ALS research, Cedars-Sinai, Los Angeles, California.