Robert Webster Denton (December 2, 1922- October 28, 2017
Dr. Bob Denton passed away on October 28, 2017 in Bishop, California. His parents, Dr. William Denton and Vivian Webster raised Bobby and his younger brother Eddie in Randsburg and Trona, California.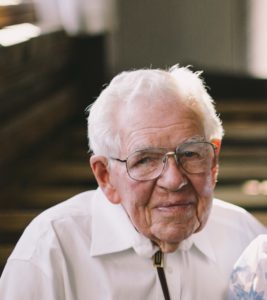 Bob attended High School in Bakersfield California, completed his bachelor's degree at Pomona College. He completed his Medical Doctorate at Northwestern Medical School. Bob also completed a PhD in physiology at the University of Illinois where he met Elizabeth (Betty) Spaeth.
They were married in 1950 and after completing both of their studies in Illinois, moved to Bishop, California for Bob to start a medical practice.
In addition to his work in Bishop, Bob worked extensively in the Christian Missionary Field. Bob's experience as a country doctor prepared him for service in remote locations in impoverished nations.
Dr. Denton was dedicated to his patients, and known for both complicated surgical procedures and his genial bedside manner. He delivered generations of babies and helped innumerable people through health challenges. Spinning yarns and listening to his patients was part of his cure.
A dedicated doctor, Christian, Mason, Gideon, father, grandfather and great-grandfather he is survived by wife Betty, brother Eddie, children: Susan, Bill and Margie, Japanese daughter Kumiko; Grandchildren: Reini, Naomi, Robin, Remy and Cassia; and Great Grandchildren: Bodie, Danica, Calder, Ansel, Oliver and Eliza.
A memorial will be held November 18, 2017 at 11:00 A.M. at the First Presbyterian Church 585 North Main Street, Bishop, CA 93514.
In Lieu of Flowers, donations may be made to any Christian mission organization.