By Deb Murphy
Bishop may have come up with a downtown parking ordinance that keeps everybody happy.
The process started two years ago with a public workshop and ended at Monday's City Council meeting with a presentation by Associate Planner Elaine Kabala, a public hearing and first reading of the new ordinance.
The majority of parking spaces will have a three-hour time limit from 8 a.m. to 6 p.m., a significant change from the two-hour limits that constrained early movie-goers, diners and shoppers. In addition, one-hour spots were identified on Academy by Joseph's Market and scattered 30-minute spots were added to accommodate in-and-out businesses.
According to Kabala, more RV parking will be identified in Shop and Church squares. In addition, the 121-space public lot on Sierra Street, across from Inyo Mono Title Building, will be divided into three-hour, all-day and permitted parking.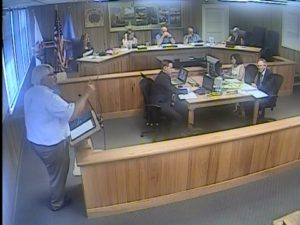 Monday's meeting started with a presentation by Sierra Business Council president Steve Frisch. Frisch had attended and was impressed by the city's EPA workshop in May. "There was such unanimity" from the nearly 100 attendees, he told the Council. That prompted him to contact City Administrator Jim Tatum to work together on a rapid assessment for the downtown area. The assessment, including discussions with property and business owners, a photo survey, a look at best practices from similar communities and public outreach, could lead to a downtown overlay zone with multi-use potential from Elm to South streets and Sneden to Home streets.
Frisch also offered $15,000 from the SBC toward a visitor survey, a common practice, he said, among gateway communities. He estimated the survey cost would range from $60 to $70,000.
The survey would assess tourist spending, multipliers and retail trends over the next five to 10 years—the kind of information businesses need to make investment decisions.