Come enjoy a fun and delectable evening of art, music and chocolate in downtown Bishop on Saturday evening, October 24th, from 4:00 – 8:00 PM! Now in it's 3rd year, this exciting and fun community event will feature twenty-two locations, dozens of artists & musicians, special art openings & musical performances, and free unique chocolate treats at every location. Please join us for an entertaining, tasty and stimulating evening!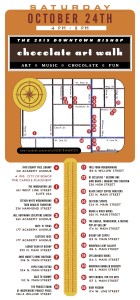 The first Downtown Bishop Chocolate Art Walk took place on November 15th, 2013. With 10 locations all featuring art openings, musical performances and lots of chocolate, the Art Walk was an immediate hit, as hundreds of people took to the streets of downtown Bishop to enjoy the creativity (and tasty treats) on offer. Despite the frigid mid-November weather (thanks to an unusual cold front in the area), all 10 locations were packed throughout the evening, and the streets were filled with happy Art Walkers.
Last year even more artists and businesses wanted to join in the fun, and so the 2014 Downtown Bishop Chocolate Art Walk featured 17 locations, with dozens of Eastside artists and musicians sharing their creativity throughout the evening.
This year the 2015 Downtown Bishop Chocolate Art Walk features even more artist and business participants, with 22 locations throughout the downtown Bishop area. For this 3rd annual event, the Art Walk will include work from several artists currently working in the Southern Inyo towns of Olancha and Darwin, alongside many local Bishop area artists and musicians.
To kick off the festivities this year, the City of Bishop has arranged for a brief ceremony to place a time capsule on Warren Street in front of The Library at 4:00 PM., followed by an outdoor musical performance throughout the evening by the popular local group The Idle Hands String Band.
Everyone is welcome, so please come out and enjoy the fun this year at the 2015 Downtown Bishop Chocolate Art Walk, on Saturday, October 24th, from 4:00 to 8:00 PM and support your local artists, musicians and businesses during this wonderful event.
~ Inyo Council For The Arts (137 S. Main St.) will be hosting the opening celebration for their Featured Artist exhibit of three local artists, with watercolor paintings by Evanne Jardine, photography by Don Smith, and fabric bags by Heather Freeman. Musical performance between 5:00 PM and 7:00 PM by guitarists Dan Connor and Greg Smith.
~ The Project Room at Independent Project Press (186-A Willow St.) will present the continuation of their current exhibit by Swall Meadows artist Ray T. Dutcher, titled "Adventures In Visual Thought," featuring beautiful Eastern Sierra oil paintings. Ray's unique artistic vision ranges from photorealistic oil paintings to hard abstraction, with these elements often combined within the same painting. New artwork on display for the Art Walk will include several previously unseen sculptural objects by Ray T. Dutcher, new mordençage photographs by Joe Profita, and the debut of "Bluetooth," a volcanic tuff sculpture by Roger Derryberry. In addition to the Project Room exhibit, view a working letterpress print shop, with a display of earth paintings by Karen Nielsen Licher. Chocolate-dipped crystalized ginger and chocolate-dipped strawberries will be offered.
~ Local wood artists John & Gina Webber of Free Form Woodworking will be displaying hardwood inlay sculptures, pyrographics on pine, pen & ink and pyrography print note cards in our rolling gallery teardrop trailer, right outside Independent Project Press (186-A Willow St.).
~ Black Sheep Coffee Roasters (232 N. Main St.) will be featuring an exhibit of digital paintings stretched on canvas and stone sculpture by Skandar, along with metal sculptures by Olancha-based artist Jael Hoffmann.
~ Steven White Woodworking (336 Hammond St.) will be hosting an open studio — see the woodshop, works in progress, a gallery of furniture and fine wooden gift items, and of course, chocolate.
Also at 336 Hammond Street, Todd Bradlee will display his recent wood furniture work and perhaps show off his motorcycle injuries!
~ Spellbinder Books (124 S. Main St.) will be featuring jewelry and beads with Lynna Walker and Claudia Axcell, ceramic pottery by Frances Cholewa and Tom Meyers, prints by Tom Killion, art and photography by Bev Schroeder, Cathy Cannon, Pat Crowther, and Paul Stone, and locally crafted items by Out On A Limb: Thoughtful Crafts. Triple Threat Brownies will be offered, plus a drawing for Theo Chocolate's new cookbook and new chocolate baking bars. Theo chocolates also available for sale.
~ Bishop Art Supply (125 N. Main St.) will be featuring the following local artists: Ron Luce, Bill Goodman, Annie Cashner, Christine Eyer, Laura Talbot, Mary Matlick, Liz Wistrom, Carol Taylor, Lynn Peterson, Pat Metivier, Joy Niewald, Evanne Jardine, Penny Carter, Helen Warren, Mickey Short, Kay Wilson, Dawn Kirby, Pat Crowther, & Marilyn Hayden.
.
~ Range & River Books (206 N. Main St.) will be featuring a special showing of photographs & rusty/copper "bits" sculptural candlesticks by Darwin-based artist Judyth Greenburgh, nature photography by Ron Oriti, Heather Freeman's fabric & graphic designs, drawings by Robert Miller, and artwork by other local artisans.
~ Looney Bean of Bishop (399A N. Main St.) will be featuring artwork by the following local artists: oil paintings by Rhondda Saunders, black and white contemporary acrylic paintings by Jose Jimenez, watercolor trout by Lauren Fisher, & contemporary oil paintings by Tracey David.
~ Mountain Rambler Brewery (186 S. Main St.) will be featuring prints, paintings and drawings by Dana Ellis, Lori Michelon, Grub Fay and Janice Kabala.
~ Gypsy King Tattoo (324 N. Main St.) will be featuring a group show of framed artwork, including acrylic & watercolor paintings and drawings, along with live artwork demonstrations.
~ Sage to Summit (312 N Main St.) will be featuring modern alpine inspired landscape paintings highlighting the Sierra Nevada by Ann Piersall. Ann's art is available on t-shirts and hats. Howie Schwartz will perform on his guitar playing old-timey mountain tunes. Brownie Bites (a mixture of dates, cocoa powder and nuts) will be served.
~ Nuts n Twigs (Next to Eastside Juice at 177 Academy Ave.) will be showing ink and watercolor paintings, plus prints and cards by Jessica Von Feldt, along with acrylic paintings plus prints and cards by Susan Manter-Bolen. The store will be offering Champlain Chocolate Factory's Organic Chocolate Bars & Guayaki Chocolate Mate.
~ Eastside Juice (Next to Nuts n Twigs at 177 Academy Ave.) will be presenting metal sculptures by Todd Unangst, handmade painted signs & photography by Tia Cochran, organic handcrafted skis from Davey McCoy, direct from forest to mill to shop to you, and uniquely fun recycled material metal sculptures by Kyle McCoy. Organic, vegan chocolate treats will be served. In addition, from 3:30 PM until 7:30 PM, EarthFood Revolution will be offering their Sizzling Salmon Tacos for sale at Eastside Juice, barbecuing outside on the sidewalk along Warren Street.
~ b1 Exclusive * Become One (Chris Witty's private art studio at 336 High Street) will be featuring a wide range of artistic creations by Aime Banta of Imagine That Creation (formerly Upcycled Creations by Aime), from a refinished leather & wood chair to desert bottles, pieces of nature and colored broken glass. No limits to the creativity found here! Also on view, artwork by Chris Witty, an artist of all mediums specializing in water color and body art (tattoo) with over 20 years of world traveled experience and discipline. We will be rocking the peace loving vibes of Pandora shuffle. Unique handmade chocolate treat creations will also be offered.
~ The Imagination Lab (621 West Line Street, Suite 204) will be featuring the fine photography of John Wilson. This will be the final day to view John Wilson's photography at The Lab, and be sure to put your name in the raffle bowl, as the winner of one of John's prints will be drawn from the bowl at the end of the evening. Also on display are woodturnings by Ron Overholtz; watercolors by Nancy Overholtz; stained glass by M. Skip Vasquez; photography by Roberta McIntosh, Richard Castillo and Bob Tyson. An intriguing selection of unusual holiday cards MAY also be on show! Surprise deep chocolate goodies and special wine will be on offer. There will also be a special musical performance between 5 PM & 7 PM. Wild Mountain Thyme and Friends will be having lots of fun sharing their love of music, especially tunes that lean toward the Celtic, Folkie, Swing side of life. Depending on which friends join them, they will be playing flute, guitar, ukelele, banjo, fiddle, maybe hammered dulcimer, and more, and, of course, singing songs.
~ Mountain Light Gallery (106 S. Main St.) Come and enjoy Bishop's premiere art gallery featuring the photography of Galen & Barbara Rowell. The special event for the evening is a presentation by photographer Tony Rowell. He will be in the gallery to do a short slide presentation around 6:00 pm, followed by a book signing for his new book Sierra Starlight. Their current featured artist exhibit is titled Reflections of Bodie and the Eastern Sierra with photography by Will Furman, Lloyd Baggs & Jim Stimson. Mountain Light also have a nice selection of art from local ceramic, woodworking and jewelry artisans. Assorted chocolates will be offered.
~ Body Wisdom (174 W. Line St.) will feature oil paintings by Janice Kabala, overpainted photographs by Alex Stenzel, and linocut prints by Julie Randolph Cornett. Kids can participate in a hands on art project from 4-5:30pm. Several musicians will perform live music. Ace Selters (cello) with Ariana Pope (violin) will play at 5:30pm. Pope is a freshman at Bishop High and Selters is a 7th grader at Home Street middle School. They will play selections from their work with Felici Trio. Julie Randolph Cornett (guitar, vocals & electric accents) will play at 6:30pm. Andrew Thomas will play guitar at 7:30pm. Janet Karecki (guitar and vocals) will play in-between. Details of the schedule will be posted on www.keeplearningtomove.com/events. Home-made cocoa inspired delicacies will be served to appeal to the 'Health Foodie' crowd. Highlights include: gluten free options, with ingredients posted for those who need to know and savoury offerings, as well as sweet!
~ Eastside Sports (224 North Main St.) will feature woodturning – bowls, vases, and the like – by Ron Overholtz, and wildlife watercolors including gift cards and other prints by Nancy Overholtz. Both artists will be present to discuss their work and answer any questions about it. Assorted chocolates will be served.
~ The Kabala, Tannheimer, & Meinke Pop Up Gallery at Schat.net (174 N. Main St.) Janice Kabala, Elaine Kabala, Mary Tannheimer, and Cynthia Meinke-Schoerner, will present an "Industrial Modern" furniture, paintings and accessories display, located in the front section of the Schat.net building. We will have scrumptious Chocolate Decadence, Chocolate Mousse Tart, & warm Chai Tea to add to the ambiance you won't want to miss!
~ Anne Marie's Home Boutique (336 N Main St.) will feature watercolors and cards by Carol Taylor, and pet portraits and cards by Cheryl McDowell. Scharffen Berger chocolates will be offered.
~ The Jael Hoffmann Sculpture Garden (in the lot between The Hostel California and Top Notch Barber Shop at 265 Academy Ave.) This special installation will be on view through the end of November, and will feature large welded metal sculptures from Olancha-based sculptor Jael Hoffmann. Jael's sculptures are symbols of internal states, from schisms to the liberation from the shackles of fear. Be sure not to miss this special one-time installation!
For further information please contact any of the participating artists or businesses.