Dorothy Louise Amon Cashbaugh, age 95, was known for her sharp wit, mischievous streak and ability to cultivate any plant. Her unique brand of humor leaves many memories of burnt toast wrapped as Christmas presents. Dorothy passed away February 10, 2018 in her daughter's home with her family by her side.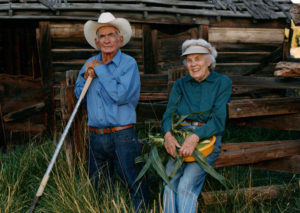 Dorothy's story began at Laws on June 30, 1922. The youngest of three girls, Dorothy started school as an infant in a cardboard box on the floor of the North Inyo School while her mother, Mabel, taught the school lesson plans for the day and her father, West, ran the mercantile store. After her parents sold their Laws farm to the LADWP, the family moved to Bishop. Dorothy graduated from Bishop Union High School in 1939.
She attended Cal Berkeley and UCLA and eventually returned to the Owens Valley, earning the honor of being crowned the Homecoming and Labor Day Association Rodeo Queen in 1947. Shortly after she found the only man whose stubbornness rivaled hers, James "Bud" Cashbaugh, so she decided she better marry him. So it was on November 18, 1950, Dorothy Amon changed her last name to Cashbaugh.
Dorothy joined her husband, Bud, in managing the Cashbaugh family hay ranch in Hammil Valley. They ultimately moved back to Bishop to start their family with their daughter, Alonna, born in 1954, and their son, James, in 1957. Dorothy spent her years raising her children, grandchildren and feeding large crews of hungry cowboys. Dorothy remained an integral part of the family cattle ranch until her death.
During her life Dorothy was known for her bountiful garden, spending many mornings crushing squash bugs by hand, and giving the prize winning vegetables to her grandchildren to enter in the fair. To their good fortune she never made them hand over the prize money. Instead, in her comical and generous fashion, she'd give each grandchild rolls of quarters for their birthday, the amount of change equaling their age. Dorothy's sense of humor never faltered in being able to keep those around her laughing. Her shenanigans will be remembered most of all by her family.
Dorothy is survived by her son, Jim Cashbaugh; daughter and son-in-law, Alonna and Gary Giacomini; grandchildren, Maria Giacomini Kemp and husband Matt, Cristina Giacomini Hughes and husband Shade, Joe Giacomini and wife Jennifer; and her four great-grandchildren, Will, Ben and Kate Kemp and James Hughes. "Aunt Dorothy" to her nieces and nephews, she is survived by Cyndia and Tim Gallagher, West, Bill, Yvonne, Al, Jon and Linda Katzenstein and George Chaffey.
To honor Dorothy's wishes there will not be a service. Her ashes will be buried with her husband in the Cashbaugh family plot at West Line St. Cemetery.
The family would like to thank Dr. Leja, Dr. Brown and the Rural Health Clinic staff, the Sterling Heights staff, Hospice of the Owens Valley, and her home caregivers for their warm and compassionate care. Donations in her memory may be made to Bishop United Methodist Church Social Services, the Laws Museum, Hospice of the Owens Valley or a charity of choice in her name.