Dorothy Dondero  91 Passed away peacefully on April 27,2019 At home with her daughter Nicole and son-in-law James by her side.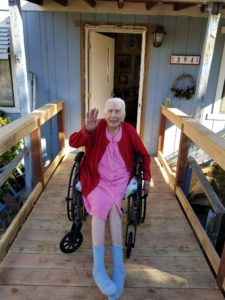 Dorothy was born may 25,1928  In Big Pine California.To Louie and Ida Stewart. Dorothy attended Big Pine elementary school And later graduated from high school may 13,1946.
After meeting the man that stole her heart  Dorothy married Roy Dondero on May 7,1963 And moved to Lee Vining California to raise their family. Dorothy lived in Lee Vining until the passing of her husband Roy Dondero in 1986 Then return to Big Pine California where she lived out  The remaining years of her life.
Dorothy is preceded in death by her parents  Louie and Ida Stewart  Brothers Kelly and Harvey Stewart, Aileen Stewart  Nephew Don Bacoch Niece Linda Morris.All of Big Pine California.
Late husband Roy Dondero  Brother-in-law's Richard Dondero John Dondero
Carl Dondero  Sister-in-law Della Hearn Dondero.
Nephews Melvin Dondero Anthony Armstrong.  Niece's  Sheryl  Dondero, Janet  Archer Dondero.
Dorothy is survived  by Carol Ann Dondero  Susan and james Hennek Teresa and Skip Armstrong, Nicole and James Rambeau.
Grandson Anthony and Melissa Williams And great grandson Gabriel Roy Williams.
Grand Children Rebecca Andrews Chris Andrews Charlene Andrews Cheyenne Andrews Randall Armstrong Jesse Armstrong Douglas Hennek  Connie Tillie.
Nieces and Nephews Darrell Dondero  Rick Dondero  Steve Dondero  Arnold Dondero Lias Dondero  Johnny Dondero  Nick Dondero  Stephen Dondero  Terry Dondero Gary Dondero  Larry Dondero  Mike Dondero Tammy Dondero Carl  John Dondero.
And numerous great grandchildren.
Dorothy loved her family dearly she will Truly be missed she was our rock .
We love you mom.
Per Dorothy's request there will be no services