There are a number of blood drives scheduled for the Eastern Sierra this week. If youd like to help out with this important service, starting Tuesday the Mammoth Rotary Clubs have sponsored a blood drive in Mammoth.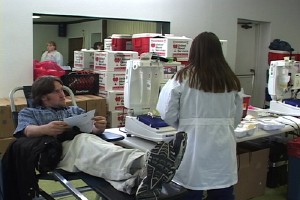 On Tuesday, Wednesday, and Thursday this week people can walk into the Community Center after 10:00 in the morning to donate or you can call ahead and make an appointment. The latest you can schedule an appointment is 5:45 pm on Tuesday and Wednesday. Thursday the blood drive wraps up at 2:00 pm.
This year the Pita Pit will be on hand with food for donors and Ben and Jerrys has donated a pint of ice cream for everyone who donates a pint of blood.
For more information on the blood drive in Mammoth or to schedule an appointment call Joanne at 914-0470, or you can just stop by the community center Tuesday, Wednesday or Thursday.
There is also a blood drive at Memorial Hall in Bridgeport on Friday. Donors can schedule an appointment between 10:00 am and 5:00 pm on Friday by calling Teresa Neeley at 932-5410.