50 people, mostly disabled and elderly, sat for two hours and talked passionately about why they believe Eastern Sierra Transit Authority should not cut Dial A Ride service in Bishop.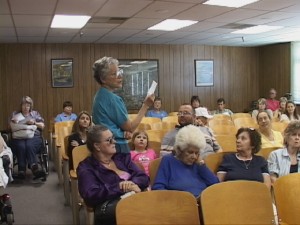 One after another, citizens spoke up. Many said they would prefer a fare increase for the buses instead of a loss of service.
Director of ESTA, John Helm told the crowd that their comments would go to the ESTA Board who now ponders a cut in service to balance the budget. ESTA now pays almost 50% more for fuel over a year ago. Fuel for the buses costs $200,000 more than last year.
Some bus service has been cut, but still up in the air – Dial A Ride for Walker and Bishop. Without exception, those who spoke plead to keep service, which they said, already includes long delays to wait for a bus.
The 8 hours a day proposed cut for Bishop would equal one full-time bus. Mr. Helm did calculate that a fare increase could raise $80,000. Add this to the savings from earlier cuts and the $170,000 shortfall would just about be met.
One woman in a wheel chair, Bridgette Solomon, said delayed service is happening now so don't take away another bus. She said many people need the service – the young, the old and the poor. She praised the drivers.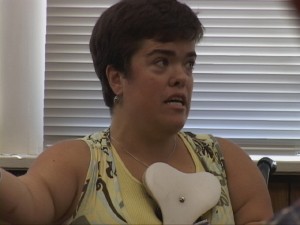 Many heartbreaking stories came from people in wheel chairs in the room – people who clearly can not live without bus service.
A representative of Northern Inyo Hospital underscored the importance of the Dial A Ride service.
Now, the ESTA Board will meet to vote on what to do. They scheduled their meeting in Mammoth for July 18th. Several of the people at today's meeting asked that the July 18th session be held in Bishop where people would be affected by the vote.