Donna Jeanne Howell
1937 – 2018
Donna Jeanne Howell, 81, an Eastern Sierra resident, passed away on Friday, July 6, 2018 in Reno NV.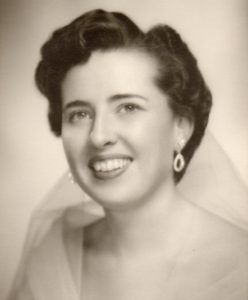 She was born on January 17, 1937 in Whittier, CA to Wallace and Lois Morrison.
Donna attended the University of California, Santa Barbara, where she met her husband, James "Jim" W. Howell.  Donna was a Preschool Teacher.
Donna and Jim owned and operated Rainbow Pack Outfit as well as Onion Valley Pack Station during the 1970's.  They moved permanently to Bishop in 1978 from Ventura, CA.
Donna served as Worthy Matron of the Mt. Whitney Chapter #197 OES in Bishop, CA.  She also served as Deputy Grand Matron.  Donna was a member of the Alpha Delta Pi Sorority.  She was interactive in Job's Daughters International and with The International Order of the Rainbow for Girls.  Donna had volunteered for Hospice of the Owens Valley.
Donna is survived by her sons and daughters-in-law, Danny & Stacy, Brian & Juliann, and Mike & Gloria.
Donna was the grandmother of Trevor (Jaycea), Kramer, Devin, Blake, Jessica, Michelle and Kristen; she was the great-grandmother of Winston.
Additionally, Donna is survived by her brother and sister-in-law, Jim and Anna Morrison.
Donna was preceded in death by her husband, Jim and her parents, Wallace and Lois Morrison.
Graveside service will be held on Thursday, July 12, 2018 at 10:00 am, at East Line Street Cemetery, Bishop, CA.  In lieu of flowers, memorial donations may be made to: The Order of the Eastern Star Mt. Whitney Chapter #197 in Bishop or Winneduhmah Masonic Lodge #287 in Bishop.