Imagine the scene at Starbucks in Bishop as coffee drinkers waited for a wake-up drink and saw a donkey at the drive-thru! You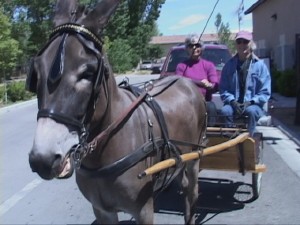 never know what you will see when Mule Days comes to town.
Sioux Munyon and friend drove up to the drive thru in a cart pulled by Willie the Donkey. He didn't order anything. The ladies did and explained their unusual appearance. They said they love Starbucks and their get-around-town mode is Willie. So, they all went through the drive-thru. Other Mule Days vacationers took Willie's picture as he waited for the ladies to get their coffees.
Sioux said Willie makes lots of public appearances back home in Lake Side, CA. Willie has come to Mule Days before and you can see him in the Parade on Saturday. It starts at 10am. Sioux said she and Willie are entry number 34.