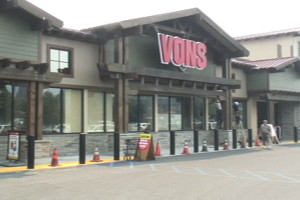 Vons Teams up with the Healthcare Trust of Mammoth Lakes to Keep Donations Local
By Ehren Goetz, Public Relations Coordinator
September, 2013
In support of National Breast Cancer Awareness Month, Vons and the Healthcare Trust of Mammoth Lakes are teaming up to ensure that all donations through Vons check-out stands stay local during the month of October.  All donations will help underprivileged women of Mono County pay for mammograms.  Show your support while you shop and give back to your community through the end of October.
Yuri Parisky, M.D., Medical Imaging Director at Mammoth Hospital is very grateful to Vons and Safeway for allowing all money raised at its Mammoth Lakes store to be donated locally.  "Although many women in Mono County can't afford preventative screenings, it is crucial to detect breast cancer it its early stages to ensure that it can be treated effectively," says Parisky.
"Last year, together with our customers, we raised and donated over $11,000 to support Mammoth Hospital's life-saving mammography program.  With the community's support, we hope to continue to make a difference," said Carlos Illingworth, Director of Public Affairs and Government Relations for Vons.
To show your support for breast cancer and the Healthcare Trust of Mammoth Lakes serving underprivileged women in Mono County, visit your Mammoth Lakes Vons and make a donation with any purchase.
For more information, contact Bubby Greene, Fund Development Coordinator at (760) 924-4128.