DONALD RAY EAKINS , 94
Don Eakins was born in Evansville, Indiana on May 2nd 1924 to Josephine and Hoyt Eakins. He went to meet his Lord and Savior on June 19, 2018.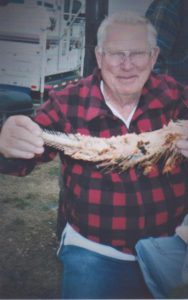 On Dec 4, 1942, at 18 years of age, he enlisted in the U.S. Navy as a Seaman 2nd class in the United States Naval Construction Battalion, the "Seabees". In 1945, he was honorably discharged at Indianapolis, Indiana as a Motor Machinist Mate 3rd class.
After discharge, he rode his Indian Scout Motorcycle out to Santa Monica, CA where he met the love of his life, Estella. Don and Estella celebrated their 70th wedding anniversary in 2018. Don was a journeyman carpenter until he moved his family to Mammoth Lakes, CA in 1968 where he owned the Mammoth Lakes Laundromat; it was during this time that he started a coin operated laundry service to accommodate the growing number of condominiums in the area.
He was a self-taught locksmith and started Eakins Locksmith Service which he operated until his retirement. Don and Estella retired to Chalfant Valley, CA. They thoroughly enjoyed their retirement time spent with all of their friends, traveling in their RV's to Crescent City to go fishing and crabbing.
In the winters, they would travel to Quartzsite, AZ and spend time with all the other "Snowbirds".
In his spare time, Don enjoyed wood carving; he entered and won awards at the Tri County Fair. Don and Estella would sell their crafts at Mule Days and craft fairs in the Owens Valley, where they enjoyed meeting new friends.
Don is survived by his loving wife and lifetime best friend, Estella, his son and daughter in law, Craig and Wendy Eakins his two daughters, Sheila Houghton and Janice Eakins, his granddaughter, Michelle Engel, and numerous relatives in the Midwest. A celebration of life will be held at a future date. He will always be loved and deeply missed.