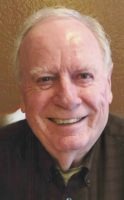 DONALD NEAL HOPKINS
July 23, 1935 – March 15, 2022
Services will be held at Grace Lutheran Church in Bishop, CA on Friday, March 25, 2022 at 11:00 a.m. for
Donald Neal Hopkins.
Don was born in Lone Pine, CA on July 23, 1935 to Arthur "Pinkie" James Hopkins and Doris Mae
McNally Hopkins. He died peacefully at his home in Bishop, CA on March 15, 2022.
Fourth generation of the pioneer McNally family, Don was a lifelong resident of the Owens Valley. His
early school years were spent in Lone Pine and he graduated from Bishop Union High School in 1952 at
the age of 16.
After graduation from high school, Don attended junior college in Sacramento for a short time before
returning to Bishop. Upon his return, he formed a dance band trio consisting of Don on piano, his
brother, Richard, on trumpet, and a friend on drums. They played for numerous dances in Bishop, Big
Pine and Round Valley before disbanding in 1956. Don continued to entertain family and friends through
the years with his incredible keyboard talent.
In 1957 Don met his beloved Janeane and they were married on November 9,1957. They were married
for 48 years when Janeane was called to her heavenly home in 2005. Together they had two children,
Cameron and Jan.
Don began a 24 year career in 1953 with Bank of America in Bishop where he held various positions
before being appointed the title of Assistant Vice-President. Upon his retirement from the bank in 1977,
Don and Janeane purchased the Bishop clothing store "Rich's Britches" which they owned and operated
for 23 years until its closing.
Don was a devoted Christian and faithful member of Grace Lutheran Church where he served through
the years as treasurer, usher and finance board member. He was a Life Member of the Bishop Lion's
Club, was an active member of the Bishop Homecoming and Labor Day Association for many years, and
served as a board of director for the Bishop Mural Society.
He is survived by his son and daughter-in-law, Cameron and Debbie Hopkins of Bishop; daughter, Jan
Hopkins of Bakersfield, CA; grandson and wife, Justin and Kelly Hopkins of Granite Bay, CA;
granddaughter and husband, Michelle and Tyler Roberts of Napa, CA; and great grandchildren, Declan
and Juliet Hopkins, and Grayson Roberts.
In lieu of flowers, friends who wish to make a donation in Don's memory can send remembrances to
Grace Lutheran Church, 711 North Fowler St., Bishop, CA 93514.