Donald Joe Zeleny (1945-2017)
Don was born on New Year's Eve, 1945, in Artesia, NM. He was raised on the family farm where he learned the value of hard work raking alfalfa in the wee hours before school to earn money for his first BB gun.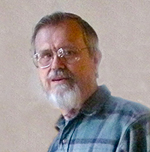 His trajectory changed from farming to science with the advent of Sputnik in 1957.
This led to two degrees in Physics from New Mexico Mining and Technology and UC Riverside and a 35-year career as a US Navy civil servant at the Naval Weapons Center, Pt. Mugu, CA, where he earned an additional degree in Systems Management from USC.
His engineering prowess was instrumental in supporting the US Navy's weapons systems.
Among his many professional achievements, he served as program manager for the AMRAAM missile, and head of the Phoenix/Standard Missile Branch then later led the Weapons Performance Division.
All this led to numerous awards including the Pacific Missile Test Center's Executive Director's award, NAVAIR Senior Engineer Fellow, and the US Navy's Meritorious Civilian Service award.
He was particularly proud of the Ventura County Big Brothers/Big Sisters Service award that he received in 1987. He was paired with his last little brother, Jim Diorio, for 34 years. Jim became like a son to Don and his wife of 50 years, OJ, who had no children of their own.
Don developed a love of the arts early in life, playing violin in NM All State Orchestra and singing in NM All State Chorus plus landing a few stage roles. He enjoyed music and was partial to the classical and jazz genres.
Finding Mammoth Lakes in 1978 brought out his love for the outdoors, so a condo was purchased and he learned how to downhill ski. After that he never wanted to travel anywhere but to the Eastern Sierras, so a home was purchased here in 1988 with the goal of turning it into a permanent residence upon his retirement.
Don and OJ worked closely with local architects and general contractors for 11 years remodeling the entire interior of that home, which was completed the end of last year.
Don enjoyed reading science fact and science fiction, participating in the local Science Book Club, listening to NPR, watching college football and Formula One/NASCAR auto racing, and working out at Snowcreek Athletic Club then returning home to share the social interaction experience there with his wife.
Locally, he was a supporter of Chamber Music Unbound, Mammoth Lakes Repertory Theater, Eastern Sierra Symphony, Mono Lake Committee, Eastern Sierra Land Trust, ML Friends of the Library, ML Foundation, Southern Mono Historical Society and Valentine Reserve.
The Zelenys kept tabs on Mammoth Lakes' happenings via local newspapers during their years living in Ventura, CA. Upon relocating here, Don delved into local activities where he became a staunch community supporter for music and the arts and volunteered his time as a docent of Mono Lake, an AARP tax-preparer, High Sierra Energy Foundation board member, a STEM volunteer for MUSD, a member of the Measure U Committee, a participant on the Mammoth Arts and Cultural Center business plan review team, and many other roles in which he gave of himself with a passion and presence as if he were born and raised in the area.
Don succumbed to a massive pulmonary embolism on Friday, 12 May, at his home in Mammoth Lakes, CA. He is survived by his wife, O'Cilla Jane (OJ) Zeleny, a sister, Zelda Zumwalt, several nieces, a nephew, and his "little brother" James M. Diorio, Jr.
Should friends desire, please make memorial contributions to Chamber Music Unbound, PO Box 1219, Mammoth Lakes, CA 93546-1219, or to Mammoth Lakes Repertory Theatre, PO Box 1815, Mammoth Lakes, CA 93546-1815.
A Celebration of Life will be scheduled for the end of June.