Don Franklin passed away on February 6th, 2015 at his home in Chalfant, CA after a lengthy battle with colon cancer.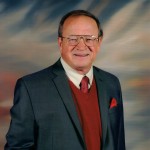 Don was born in Los Angeles, grew up in southern California, graduating from Gardena High School in 1963.  He spent most of his working career in the industrial laundry, linen supply business, rising to General Manager of the Bakersfield division of Valley Industrial Services.
While living in Bakersfield, Don was active in youth sports and the Bakersfield Breakfast Lions Club.  He served one term as club President and, another year, was named Lion of the Year.
Don was first introduced to the high sierras, as a boy in the 1950's, while taking family vacations.  Their vacations stretched from Independence Creek to Bridgeport, and he loved every bit of it.  He thought at the time that this would be a great place to live, and he was certainly right.
The opportunity to move to Bishop occurred in 1986.  He continued his working career with Bishop Laundry and Linen Supply.  He worked at the Union Carbide Tungsten Mill from the mid-90's until they closed in 2000.  He spent the remaining 12 years of work with Mono County, working at the Benton Crossing Landfill.  He retired in November, 2012.
Throughout his life Don enjoyed various sports and activities.  Water skiing, boating, snow skiing and golf were always a part of his life.  However, his favorite activities involved the High Sierras.  Camping, fishing, hiking and exploring local sites of interests were great fun.
Don enjoyed introducing the Sierras to family and friends.  Mule Days was always a great event for the family, and once a year for several years, a group of about 20 or so would gather to tube the Owens River.
Don and Linda enjoyed their first date on Thanksgiving, 1997 as dinner guests at the home of Bob and Kay Darling.  From there, it was a short journey to falling in love and they have been joined at the hip ever since.  Don and Linda were married in July, 2001.
Don and Linda enjoyed travel and did so as often as possible.  They made several ocean cruises, two trips to Hawaii, a vacation to Washington D.C., and a family reunion in San Antonio, TX.  One of their favorite vacations was a road trip to Mesa Verde, CO to explore the Indian Cliff Dwellings.
Don's sense of humor knew no boundaries.  He loved to laugh, and even more, he loved to make others laugh.  Don appreciated and protected God's good earth and all the creatures that inhabit it.  Over the years, Don and Linda shared their home and made family of three precious puppies – Scooter, Suzee and Maggie.
Don accepted Jesus as his Savior several years ago, and with Linda's guidance and encouragement, joined St. Timothy's Anglican Church.  He was baptized and confirmed, and Don felt these two events brought his spiritual life full circle.  St. Tim's church family quickly embraced and bonded with Don and he with them.  All of Don's family and friends are at peace knowing that he is free of pain at home with his Lord.
Don is survived by wife Linda, daughter and son-in-law Jacque and Jeremy Jans of Bakersfield, daughter and son-in-law Julie and Scott Carlson of Bakersfield, stepsons Michael and Mark Heffron of Bishop, sister Sally Sessions of Lancaster, CA, brother and sister-in-law Tom and Judy Franklin of Fayatteville, GA, 7 grandchildren, 6 great grandchildren, many loving nephews and nieces and friends galore.  Don was preceded in death by infant son Steven Bowie Franklin, infant daughter Johanna May Franklin, sister Nancy Lee Stewart and brother Anthony David Franklin.
Funeral services will be held on Saturday, February 14th, 2015 at 11:00am at St. Timothy's Anglican Church, 700 Hobson Street, Bishop, CA, followed by a graveside ceremony at the East Line Street Cemetery.  A Celebration of Life reception will follow at St. Timothy's.  Father John Paul Wadlin officiating.