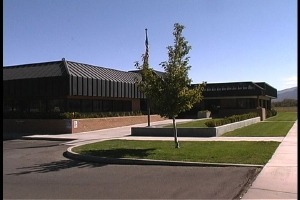 It was a day of Los Angeles Department of Water and Power rumors in the Sierra Wave newsroom. Emails, calls and visits reported that guards locked down all three Owens Valley DWP offices and took documents, that officials took documents from the Owens Dry Lake office, and that computers were taken from the Mojave DWP office. We were able to get some information on rumor number one.
A usually reliable source told us that this week guards showed up and shut down the DWP offices in Lone Pine, Independence and Bishop at the same time with guards on every gate. The story went that an email from management told workers to "give them any record they want."
As our source reported, "They came from nowhere all at once and disappeared back to nowhere." We placed calls to DWP Public Relations in Los Angeles with no response. A call to DWP PIO Chris Plakos in Bishop did result in a comment. To the reports of office lock down and seizure of documents, Plakos said only, "I can't address it. This is a personnel matter."
As for the other rumors, we have no confirmation of document seizures from the dry lake DWP office or Mojave DWP office. Other reports indicated some DWP middle-management were placed on administrative leave.