Dixie Lee Harding, a Bishop resident since 1962, passed away peacefully at her home on October 28, 2016, following a long and brave 13 year battle with COPD.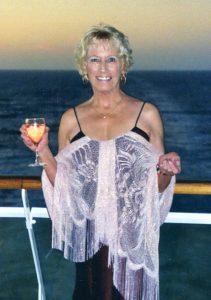 She was born on July 3, 1948 to Patrick and Millie Green. She was the sixth of eight children. The family relocated to Bishop, and Dixie raised her three boys here, enjoying weekend backyard barbecues, "snake" hunts, poker games, horseshoe games, and watching her boys play sports and grow.
She was a member of a local Labor Union, and could often be seen on road construction projects throughout the Eastern Sierra in the 70's, 80's and 90's. In later years, she enjoyed gambling jaunts to Reno, cruise ship vacations, reading anything she could get her hands on, and visits from her sons, daughters-in law, and grandchildren.
She also loved the Owens Valley and the High Sierra, football Sundays, football pools, baked goodies, and lottery scratch offs. Anytime she was surrounded by family was a happy time. While she could at times display a stubborn streak, she had a contagious smile, a great sense of humor and loved her family deeply. She was loved by so many, and will be missed forever.
She is survived by her husband, Todd Harding, son Tony Owen (Hilary) of Oceanside; son, Patrick Higle (Annie) of Oceanside; son, Ted F. Higle (Carolyn) of Porterville; step-son Darin Harding (Haley) of Bishop; sisters, Linda Franklin of Chalfant Valley, Debbie McCormick of Bishop, and numerous nieces and nephews. She adored her 7 grandchildren, Tabitha, Tessa and Oliver Owen, Jonathan and Randy Higle, Brandon Henson and Korall Perrigo, and 4 great-grandchildren.
During her 13 year illness Dixie was surrounded by unending love and devoted care given to her by her husband, Todd, sisters Linda Franklin and Debbie McCormick, niece Kimberley McCormick, and great-niece Taylor McCormick.
Graveside funeral services will be held at the East Line Street Cemetery on Saturday, November 12, 2016, at 11:00 a.m. A celebration of life will follow at Sage Restaurant at 621 West Line Street in Bishop.