Dixie Flora Smith Ralston passed away at the Palomar Medical Center in
Escondido, California on Monday, May 14, 2018 surrounded by family.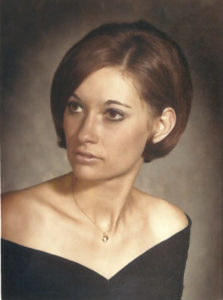 Dixie was born on January 23, 1951 in Pomona, California to Elsie Louise Owens Smith and Robert Cecil Smith. Dixie spent her formative years in the Eastern Sierra.
As a young girl she enjoyed ballet and horseback riding. Dixie attended Big Pine
High School, where she lettered in all sports she participated in, and was a
cheerleader.
As a senior in high school Dixie married Robert Earl Ralston; they were married for over 49 years.
Dixie began her working life as a waitress at Maries Diner in Big Pine, California, where Robert was the short order cook.
Dixie, Robert, and son Sam continued to build their shared life and history together in Crowley Lake, CA and Morro Bay, CA.
Later in her career, Dixie was an assistant branch manager for Security Pacific Bank
in Carlsbad, California.
Dixie invested most of her time and boundless energy in loving and caring for her immediate and extended family, as well as life-long friends.
Dixie's interests varied widely during her life, including cross country and water
skiing, fishing, needlepoint, knitting, sewing, avid reading, entertaining, cooking,
and especially baking. Dixie's Rum Cake remains a cherished family tradition.
As a beloved wife, mother, grandmother, daughter and cousin, Dixie will be missed
by husband Robert Ralston of San Marcos, CA; Cousin Harriet Smith Allison and
Daughter Missy of Reno, NV; son and daughter-in-law Sam Ralston and Cindy Lou
Holm of San Marcos, CA; grandson Randolf Alan Ralston and granddaughter-in-law
Amelia Ralston of San Marcos, CA;
Grandson Alexander Alan Ralston of Vista, CA; brother and sister-in-law William James Ralston and CeCe Maislin of Lahaina, HI; brothers-in-law Timothy Duane Ralston and Ronald Vernon Blair of Long Beach, CA; brother and sister-in-law Martin Lee Ralston and Stacey Ralston of Ramona, CA;
And dear friends of the family James and Sharon McHale of Beaumont, CA.
Dixie's final resting place will be at Big Pine Cemetery, in Big Pine, CA.
For those wishing to share condolences with the Ralston family, please forward to Robert Ralston, 1930 San Marcos Blvd, Space 398, San Marcos, CA 92078.