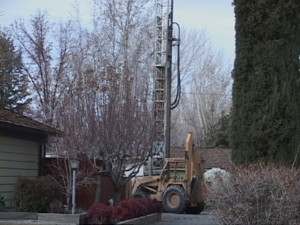 Residents of West Bishop now keep a wary eye on their groundwater levels and their private wells. Some property owners have reportedly started to meet to share their fears. Seven or so domestic wells have dried up. Many question why the groundwater dropped – forcing homeowners to drill much deeper wells.
Some attention has focused on the Department of Water and Power's pumping over the years. Inyo's Water Director said preliminary investigation pointed to a lack of recharge due to dry years. Most of the ditches that flow through yards in West Bishop dried up some months ago. Sierra Wave Media checked with the Water Master of the Bishop Creek Water Association for another view.
Miles Maillet has worked as Water Master for two years. He described his main job as evenly dividing the main Indian ditch that flows from Bishop Creek below Edison's Plant 6 into three ditches which flow downhill through residential areas and ultimately to DWP lessees off Barlow Lane and to Reservation areas.
Maillet said, "The amount of water in the main Indian ditch is 3.5 cubic feet per second. I spread that as equally as possible into three lower ditches." Those three ditches are the Hall Ditch, the South Indian Ditch and the North Indian Ditch. They flow into West Bishop.
Some residents of the area said they thought Underwood and Glennbrook got more ditch flow than Highland and Sunset. Maillet said that's not the case. He said that the Hall Ditch comes out on the corner in front of two houses on Underwood but then immediately goes to leases with livestock. Maillet said a community well also serves Underwood, Glennbrook and Sierra Vista.
Other properties have individual wells or community wells. Maillet said Highland Drive was the first to experience dry ditches, but he said that is not because their water was cut off by head gates. He said it's because of the lack of water in Bishop Creek.
North Bishop Creek runs through the McLaren area where water still serves ditches. Overall, Maillet said most residential areas in West Bishop do not have water in their yard ditches. Last winter, according to Maillet, Bishop Creek registered a flow of 45 cfs. This year, the flow is down to 20 cfs or more. Said Maillet, "I can't give them what I don't have."