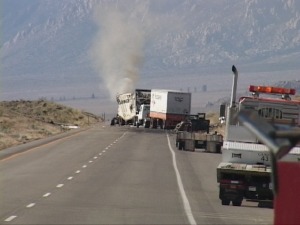 Coincidentally, a major accident in Inyo County dramatically underscored a message of this month, Distracted Driving Awareness Month.  The explosive crash of two semi trucks just south of Division Creek Rest Area may have been caused by a distracted driver.
Community reports indicated that Andrew Durham of Hesperia, driver of the semi that slammed into another truck, had diverted his attention from the highway to concentrate on something around his dashboard. When asked about these reports, California Highway Patrol Officer Dennis Cleland said, "There is substantial evidence to support distracted driving, but this is under investigation."  Officer Cleland said the driver's own admissions contributed to this investigation.
Earlier reports said that another semi driver had turned south out of Division Creek Rest Area and was building speed up the hill when Durham slammed into the back of his truck.  Durham's tractor and front trailer caught fire.  Durham was reportedly trapped initially by air bags but managed to get free.
Paint and chemicals in one of the trucks spilled and caught fire. Law enforcement said some first responders who inhaled the fumes and smoke at the scene had to be treated at Northern Inyo Hospital.  Durham was transported to the hospital with some injuries.  The other driver was not hurt. Caltrans brought in a Hazmat team to clean up the hazardous spill.