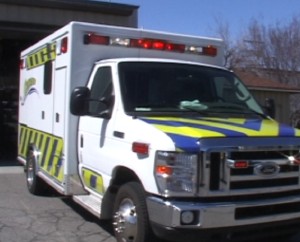 A few years back, Judd Symon of Symon's Ambulance let County and City officials know that constant cuts in government reimbursements would cause him to eliminate an ambulance. Now, the Bishop Police Department says Symons has failed to pay for dispatch services. The City Council will consider what to do.
An agenda item from City Administrator Keith Caldwell says that the Police Department is requesting the Council to consider terminating dispatch service for Symons with a letter of 60 days notice as specified in the contract. Caldwell writes that Symons entered a contract with the City last July to provide dispatch services. He said Symons is about $10,000 delinquent in payments to the City of Bishop.
Some observers have wondered why ambulance calls should have to pay, unlike fire and police calls. The big question, how will Bishop get ambulance service if there is no dispatching of calls?
In a letter proposed to send to Symons, Chief Carter writes that the ambulance service has failed to respond to requests for payment. Carter's letter does say "we ask that you please provide us with an alternate telephone number so that 9-1-1 calls and requests for ambulance services can be forwarded to you for response."
In other issues, the City Council planned to hold a Budget Workshop Tuesday from 9am to noon in the City Hall Executive Conference Room to discuss financial options to produce future savings for the City of Bishop. The meeting is open to the public.